Good day one and all,
I can't believe I'm already half-way through my degree, and at the start of week 16! Plenty of fun, interesting and life changing things going on, but as per, the joke.
[learn_more caption="How did I get of Iraq?"] Iran.[/learn_more]
Bye Elections!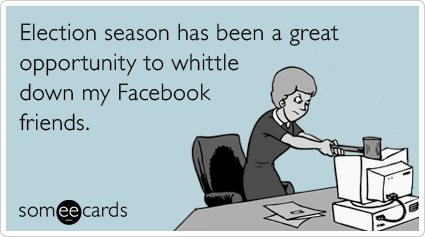 Bye Elections nominations for Equal Opportunities Officer will open on the 22 of February (Friday) at 12 o'clock! Please contact William Downes if you'd like to run for it!
The elections will be taking place in Week 8, we'll keep you posted on the Furness Facebook Page.
KFC Graduate Careers
Ambitious? Hard working? Career driven? This is a Graduate Scheme with international opportunities within the Worlds Largest Restaurant chain- check out the attachment for more details about how to get involved with Britain's Top Employer 2012
Action for Happiness Starts Today!
Action for Happiness is a worldwide movement of people committed to building a happier society. It is a simple, but powerful idea. We're not proposing anything new, just promoting the need to prioritise that which makes people happy. People need to care less about what they can get for themselves and more about the happiness of others. This is why Lancaster University is having an Action for Happiness Campaign. Let's join together and spread the happiness!
For more information check out their page! And join the event here!
Patriots Cup
Patriots Cup all kicks off 1st March! The Patriot's is our annual sporting competition with arch-nemesis (and frankly worst 
)  college Cartmel! It's a great chance to play some ridiculous sports and represent Furness.
Like the Furness Patriots Page, for upto the minute competition results and witty commentary (petty abuse) from the new Furness Mascot!
More information about how you can get involved will be coming soon!
Some cracking results for our sports teams this week!
Netball:
Fantastic results this week for Furness netball with both teams securing a win! The Bs edged a close match against Grad to win 22-18, won under tough circumstances with two girls going off injured!
The As were subject to a demoralizing loss to Lonsdale last term and were determined to make amends, this drive paid off with Furness winning 40-28, putting them in a strong position in the league
Footy:
The B's won convincingly on Sunday against a strong Lonsdale. Going in as underdogs, and hungover underdogs at that, Furness battled back against a physical side. Furness took the lead early into the second half through a mesmerising cross by left back Andy Moss (face of Hugo Moss) and found the head of captain Chris Kitch who put away an extremely difficult header, but followed such a great goal with such a banterless celebration. The second goal came from play-maker Zac Harries. Furness were awarded a free kick just outside the penalty area, a perfect position for Zac to have a shot. He curled it gracefully into the top corner leaving the keeper with no chance, we expected nothing less from that gifted left foot. Lonsdale were not out of the game, Dan Hunt gave away a careless penalty, almost as if he wanted to make the game interesting.. But the Lonsdale midfielder struck the post and was left sat on the ground crying, a satisfying sight for all involved. Furness stayed strong throughout and deserved the 2-0 victory they received.. 10 points this season already makes them the most successful Furness B team in history since records began!
Carter Shield:
This week it's Basketball, get down to the sports center for 12:45 if you fancy shootin' some b-ball outside of the school 😉
Make sure you get down and support all of your college sport!
LGBTQ* hit Canal Street
Possibly the best night out you'll have in Manchester with the society! Our famous termly social will take place on Friday 22nd February. We will be leaving campus at 8.15pm, and leaving canal street at 3.30am, meaning we shall be in the first bar by 9.30pm and back on campus by 4.30am.
Tickets will be £10 and are on sale now from the LUSU info desk (underneath Spar)!
Trevor
Firstly a big shout out to all of you who braved the quiz on Sunday especially to those who took part in our perfectly legitimate cock fighting. Remember the quiz is on Half 7 every Sunday in Trevor, it's only a quid in and we've got some cracking prizes for the winning teams.
Make sure you like the Trevor page: www.facebook.com/FurnessBarTrevor there's always stuff going on in your college bar!
Finally a massive thank you to all of you who came on the 15 Hour! Kudos to Layla and Rachael for organising everything and of course DJ Jordan "Hecs" Rosamand's massive Elements set! Check out the first lot of photos here.
Office Hours:
Reginald Popoola – Male education and welfare (condom fairy) – Monday 1-2
Marguerite Walley – Female education and welfare  – Thursday 1-2
Gosia Felisiak – Vice President – Tuesday 10-11 and Thursday 3-4
Diego Ortiz – Equal Oppurtunities Monday 12-1
Linus Yau – Equal Oppurtunities Wednesday 3-4
Thanks a lot for reading!
Henry 🙂